Adding river rocks to your landscaping can turn any ordinary, boring space into an aesthetically pleasing environment. Not only do these stones come in a variety of sizes and colors, but they also provide a picturesque natural vibe. Instead of using store-bought or man-made products for landscaping, river rocks allow you to use mother nature's own design and make it look as if it belongs in your very own backyard oasis. Whether you choose to go bold with bright-colored stones or elegant with neutral tones, river rocks have the capability to transform any yard into something special. With the right size choices and layout pattern, you could create a one-of-a-kind path or gorgeous focal point.
What Are River Rocks and Why Are They a Great Option?
River rocks possess a compelling visual appeal, with their smooth and rounded edges inviting your imagination to explore. With its versatility in size, shape and hues, river rock can be expertly placed throughout the landscape for a captivating display that fits any distinct outdoor style. River rock can be used to create stunning walkways, edging to frame mulch beds and planters, texture on driveways and patios, and even serve as a low-maintenance garden solution.
Using a majority of river rocks as a landscape design material is environmentally friendly as it does not require any chemical treatments or irrigation systems that consume water. It can also help to prevent soil erosion and conserve water by reducing the need for watering.
Create an Intricate Stone Path or Walkway
Creating a rock path is the perfect way to spruce up any outdoor space. Whether you want a modern or traditional aesthetic, guide foot traffic around your lawn, and lend your landscape some dynamic appeal all at once, think about incorporating one of these classic rock landscaping ideas into your space. From large stepping stones set in gravel to more abstract mosaic designs, rocks can be arranged in all kinds of inventive ways. Start with your home's design as inspiration, then choose the right type and color of stones to ensure a cohesive look.
Incorporate River Rocks Into and Around Your Gravel Patio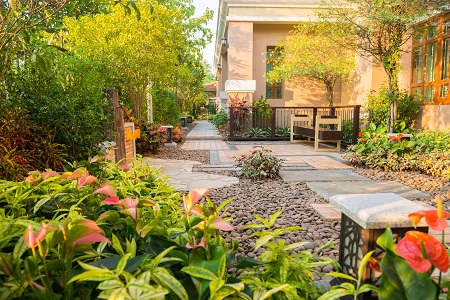 Incorporating river rocks into the design of your gravel patio only strengthens the overall look. It's the granite edging that adds an elegant touch, while slabs for stairs are the cherry on top of this contemporary design. The river rocks frame the entire area, going beyond just completing the elegant look you are going for – it adds stability and support for many years of use.
Design a Dry River Bed
If you have a property that features sloping terrain or drainage issues, there is an attractive solution – a dry river bed. By using various sizes of rock to form the riverbed and then marrying them with lush plantings, you'll be able to create a stable yet visually intricate landscape feature. The different elements will help reduce runoff and also positively impact the visual quality of your outdoor space.
Design a Mosaic
Embedding a cool river rock mosaic in your concrete walking path or garden creates an aesthetically pleasing environment. Using different colors and sizes of rocks, you can make imaginative designs for an attractive garden space. Not only will your front yard become an eye-catching work of art, but you'll also have your own creative and unique style added.
Put River Rocks Around Firepit Area
While having a firepit in the backyard is a great way to relax and entertain, surrounding it with river rocks adds a new dimension of rustic charm. River rocks can provide an extra layer of ambiance and visual interest — depending on the stone's unique shape, color, and size — allowing you and your friends to be further enveloped by the outdoor experience.
Use For Landscape Edging
River rocks are an effective and elegant way to create a beautiful border for your gardens and flower beds. Not only do they provide a visual focal point, but they also help retain moisture and keep your beds protected against erosion. In addition, river rocks deflect heavy rain and wind to prevent mulch from spilling out of the beds.
Create a Colorful and Creative Look to Your Garden
A creative touch can be added to your river rock project by personalizing the surface of the stones with paint. You can use smaller stones to form images, while larger ones provide an ideal canvas for beautiful and inspiring writing or imagery. Handpainted rocks also bring a unique identity to otherwise boring empty land sections, making stone arrangements stand out.
Build a Weed-Free Flower Bed
If you're looking for an efficient and creative way to stop the weed growth in between your garden bed and walkway, gravel and river stones can be used to create a unique transition. This easy-to-maintain solution not only helps visually connect the two outdoor elements but also serves an important purpose in keeping weeds from growing between them.
Create a Natural Look Around Water Structures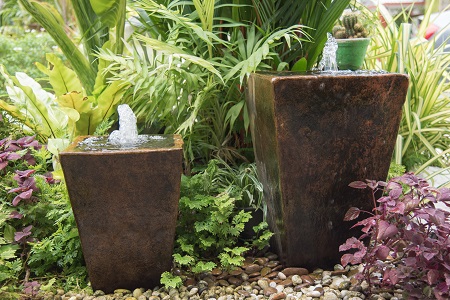 Outdoor water features add beauty and sophistication to any yard. The addition of river rocks significantly ups the aesthetic quality, creating a more naturalistic setting that perfectly compliments the sound, texture, and color of rippling water. This decorative rock provides natural support for plants that live near water sources and different hues and shadows that cast beautiful patterns across the water's surface. River rocks also act as barriers for streams or ditches meant for drainage, helping the water flow in a certain direction and keeping it from spreading unnecessarily throughout the landscape.
Decorate Your Zen Garden
Traditional zen rock gardens in Japan are impressive works of art and can be quite large. But if you'd like to create one yourself, a smaller version is certainly possible! With pea gravel, larger river rocks, and a creative eye, your backyard can become a tranquil oasis of beauty and peace. The design incorporates elements of nature, such as rippled lines that represent ocean waves and rounded river rocks for a smooth texture. This type of garden is an ideal way to infuse a sense of serenity into any outdoor environment.
Allwood Recyclers Sells River Rocks
You might have noticed rocks of various shapes and sizes along the Columbia River. From time to time, you'll spot some large boulders that were carried down by the powerful currents. Other times, you'll find small eroded pebbles. Due to this water movement, most riverbed rocks are smooth with round edges, perfect for landscape projects that need a softer touch. If you want to liven up your Gresham property with these smooth river rocks, head to Allwood Recycling Inc.
Our convenient location is only minutes from Gresham city limits, so you can come to our shop and pick up your materials, or we'll deliver them straight to your property! Contact us today to create a natural-looking landscape for your home.
Other landscaping and recycling services we offer:
Bark products (the finest bark dust, hemlock, fir, cedar chips, fir pebbles, and more)
Decorative rock and landscape products
Gravel for driveways
Soil & compost
Flagstone
And more!
Read our About Us page for more information about our company, or visit our Recycling Services page to learn how you can help the planet.