The Pacific Northwest is a great place to live, endowed with natural beauty. When you start looking for landscape material for your property, it can be tough to find exactly what you need, given the variety at your disposal. This article will discuss some of the different materials popular in this region and help you figure out which one is right for your home!
Cedar mulch
Cedar mulch is an excellent option because it's long-lasting and easy to maintain. Unlike traditional bark mulches, cedar does not break down or compact over time. It's also naturally rot-resistant and will keep your flowerbeds looking fresh for years! Another advantage of cedar is that it has a pleasant, natural aroma. This will prove beneficial to the living plants in your garden because the scent can help promote growth!
Bark mulch
If regular cedar mulch isn't quite what you are looking for, bark mulch is a friendly alternative that comes in various colors. You can choose from hardwood mulches like pine or oak that are perfect for retaining moisture during dry seasons! There's also the option to get colored bark mulch if you want something a little different than standard brown wood chips.
Grass clippings
For those who don't mind doing some extra work, grass clippings are an excellent landscape material to use. They can be used in place of bark mulches for more organic landscaping projects! Grass clippings decompose quickly and help fertilize your soil, making them an ideal choice if you want something that will biodegrade over time.
Pea Gravel
Pea gravel is a small aggregate that resembles tiny rocks. It's usually available in black, brown, and tan colors that look good on any landscape design. Although pea gravel doesn't offer the same benefits as bark mulch or grass clippings, it does have an advantage over standard landscaping rocks. This is because it helps aid drainage and does not become as hot during the summertime!
River Rocks
If nothing else looks quite right, river rocks may be the perfect option for you. Although they don't offer any specific benefits beyond beauty, these rocks are perfect for adding color and texture to your landscape. You can use them in flowerbeds or along walkways and driveways! They're also great for filling the gaps between pavers, making any patio look more naturalistic than before!
Stonewall
Stonewall stone can be used as an accent or border to create interesting shapes and designs. Since it's a natural material, there are endless possibilities when designing with this stone! You can also use it to create structures like benches or small walls to help with drainage.
Flagstone
Flagstone is another popular choice for the pacific northwest. It comes in different colors and is very easy to install. Unlike regular stone pavers, flagstones are made from small pieces of natural rock that make them more durable and less likely to break!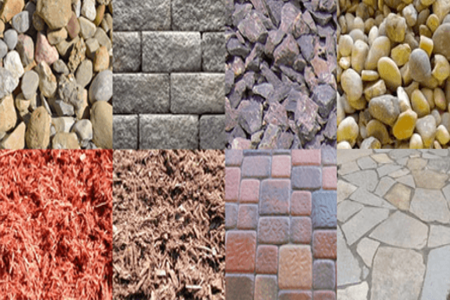 How do you choose the best landscape material?
When contemplating landscaping material for your yard, here are helpful factors to consider:
Aesthetics
The primary purpose of landscaping is to enhance the appearance of your yard. You should consider what materials look best on your property to match the rest of your landscape design!
Maintenance
You'll need to think about how much work your landscaping material will require. If you're looking for something as easy as throwing down a layer of bark mulch and calling it done, pea gravel or river rocks would make excellent choices! On the other hand, if you want something that requires more work, then travertine pavers or stone walls may be better.
Price
Price is another important factor to consider as you can't spend what you don't have. Composite stones or river rocks may be the perfect choice if you are on a budget since they're inexpensive and durable! On the other hand, travertine pavers can last decades but cost more than some other materials.
Come to Allwood Recyclers!
Allwood Recyclers offers a wide range of landscaping materials, including decorative rocks and bark products! We have a great selection to choose from, so you're sure to find what your yard needs. Contact us today anytime you need landscape supply in Gresham!